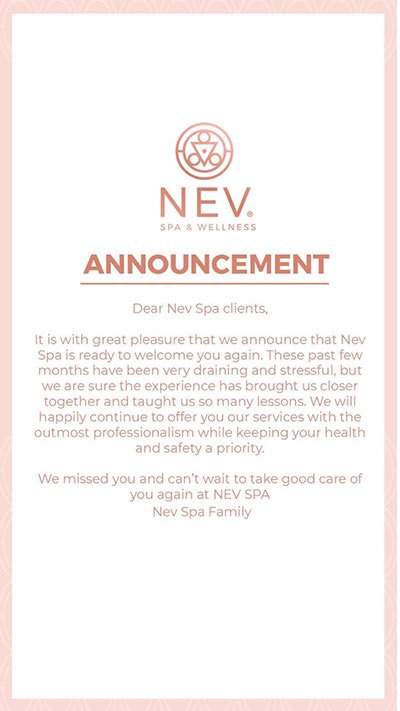 On behalf of NEV Spa & Wellness family to be as proactive as possible during this heightened period related to Coronavirus (COVID-19) to assure you that the health and safety of our team members, guests and community remains NEV Spa's top priority.

Our team conduct rigorous cleaning of all guest and meeting rooms and all public and back-of-house spaces several times throughout the day. Further, we follow exhaustive cleaning, sanitation, and disinfection protocols that meet or exceed extensive industry guidelines. These protocols, which assist with illness prevention, include:
• Regular sanitation training and reinforcement for our team members.
• Checking temperature using non-contact thermometer for our team members and clients upon arrival.
• Clearly established cleaning and disinfecting cycles for all areas, through one of the multinational disinfecting companies.
• Prominent placement of hand washing facilities and hand sanitizers.
• Reservations will follow one to one policy (clients will only be in contact with only one of our team members).
• Changing rooms will be replaced with treatments room, while clients can change to avoid being in contact with other clients.
• Clients will be advised to bring their own towels with them, while we still have our own linen that will be subjected to cleaning and disinfecting cycle after every single use.
• Using SPA facilities will be limited, as it will be for one by one.
• SPA Jacuzzi water chlorine level will be monitored to make sure that it will be safe for all clients.
• Sauna and Turkish Hammam will be cleaned and disinfected after every single use.
• Frequent cleaning and disinfecting of high touch locations.

Given the current concerns related to COVID-19, we are increasing our cleaning, sanitation, and disinfection frequency above our already high standards.
NEV Spa will more than double the number of hand sanitation dispensers available throughout our SPA, and we are reinforcing with our team members the recommended precautionary steps from the CDC to prevent the spread of germs. These guidelines include:
• Wash your hands with soap and water for at least 20 seconds.
• Avoid close contact with people who are sick.
• Cover a cough or sneeze with a disposable tissue.
• Avoid touching your face especially your eyes, nose, and mouth.
• Clean and disinfect frequently touched objects.
• Stay home if you have flu-like symptoms.

We are taking the necessary steps to be prepared should this issue become a more significant concern for our area. NEV Spa will continue to implement preventive measures in line with the recommendations of the WHO.

Based on the guidance we've received, we are confident our operations continue to be safe and ready to serve our guests. We will deepen our collaboration with health and government officials, so we are prepared to take whatever steps may be necessary to ensure the safety of our guests and team members.
We value each guest that honors us with a visit to our destination, and we look forward to serving you upon your next visit to NEV Spa & Wellness.